Universitetsmuseene
Gjenstander / Artefacts
---
Museum : Universitetsmuseet i Bergen
MuseumNo : B1817 (Katalogtekst)
Artefact : sverd
Form : tveegget
Material : jern
County : Sogn og Fjordane
CountyNo : 14
Municipality : Lærdal
MunicipalityNo : 1422
CadastralName : Hauge (HAUGE)
CadastralNo : 23
Period : eldre jernalder
AcquisitionDate : 1864
FindCategory : gravfunn
Description : To Stykker af en tvæegget Sværdklinge, det ene 15 Tom. langt og 1 1/2 Tom. bredt, det andet 11 Tom. langt aftagende i Bredde mod Spidsen. Grebtangen er 4 Tom. lang med jævn Overgang til Klingen.
CoordinatePrecision : gard
Photographer : Olsen, Ann-Mari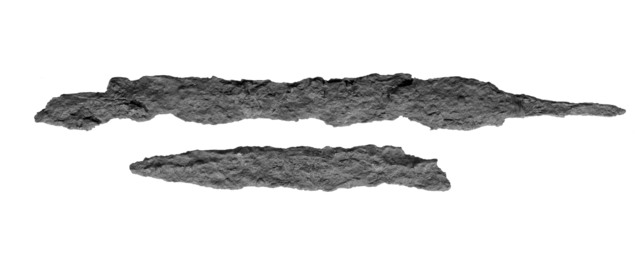 Universitetsmuseet i Bergen/ University Museum of Bergen (post@um.uib.no)
---
Alle foto på denne siden er lisensieret under en Creative Commons-lisens.
Please note the Creative Commons license attached to the individual images displayed on this page.
It is possible to order high-resolution images from the museum. The cost must in such cases be covered by the purchaser. Please contact the museum to acquire about prices and delivery.