Universitetsmuseene
Gjenstander / Artefacts
---
Museum : Kulturhistorisk museum, Oslo
MuseumNo : C35300 (Katalogtekst)
MuseumSubNo : 0183/01-5
Artefact : stemjern
Material : jern
County : Telemark
CountyNo : 08
Municipality : Skien
MunicipalityNo : 0806
CadastralNo : 300
Period : middelalder/nyere tid
AcquisitionDate : 1979
FindCategory : byfunn
LocationId : 33664 (Riksantikvaren/ Kulturminnesøk)
Description : Stemjern?. 03: Tilspisset fra de to brede sider i ene enden. Andre enden har tydelig spor av å være banket på med hammer o.l.. De ligger på svakt kilformet h.snitt.. 02: Rekl. h.snitt i ene enden (11x8mm), vid i andre enden.. Foto: 03: X-R:3, 02: X-R:3.
CoordinatePrecision : Område
Photographer : Adnan Icagic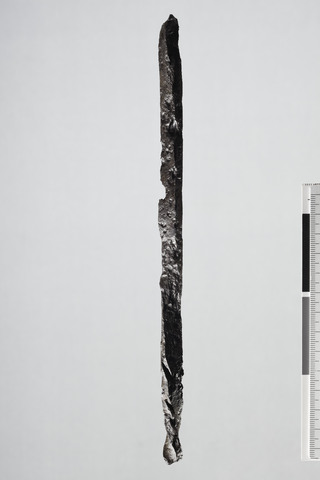 Kulturhistorisk museum/ Museum of Cultural History (postmottak@khm.uio.no)
---
Alle foto på denne siden er lisensieret under en Creative Commons-lisens.
Please note the Creative Commons license attached to the individual images displayed on this page.
It is possible to order high-resolution images from the museum. The cost must in such cases be covered by the purchaser. Please contact the museum to acquire about prices and delivery.