Universitetsmuseene
Gjenstander / Artefacts
---
Museum : Kulturhistorisk museum, Oslo
MuseumNo : C38626 (Katalogtekst)
MuseumSubNo : 463
Artefact : bein, ubrente
County : Vestfold
CountyNo : 07
Municipality : Sandefjord
MunicipalityNo : 0710
CadastralName : AUVE
CadastralNo : 102
PropertyNo : 70/69
Period : yngre steinalder
AcquisitionDate : 1979-1998
FindCategory : boplassfunn
LocationId : 49729 (Riksantikvaren/ Kulturminnesøk)
Description : Lett bøyet ryggrad av nise (Lagenorhyncus) tatt opp i preperat. Ligger i kasse med sand. Ulkart om dette er original sand. Antakelig "ryggsøyle 2". Se Østmo Auve I, fig. 31, s. 44 og Hufthammer Auve II, fig. 4, s.61.
CoordinatePrecision : Stedsnavn (Gard)
Photographer : Helgeland, Kirsten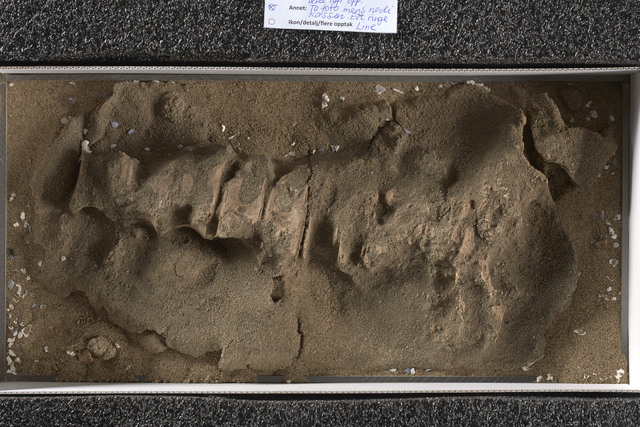 Kulturhistorisk museum/ Museum of Cultural History (postmottak@khm.uio.no)
---
Alle foto på denne siden er lisensieret under en Creative Commons-lisens.
Please note the Creative Commons license attached to the individual images displayed on this page.
It is possible to order high-resolution images from the museum. The cost must in such cases be covered by the purchaser. Please contact the museum to acquire about prices and delivery.