Universitetsmuseene
Gjenstander / Artefacts
---
Museum : Kulturhistorisk museum, Oslo
MuseumNo : C53630 (Katalogtekst)
MuseumSubNo : 4
Artefact : amulett
Material : bronse/kobberlegering
County : Telemark
CountyNo : 08
Municipality : Tinn
MunicipalityNo : 0826
CadastralName : MAAREM NORDRE
CadastralNo : 71
PropertyName : Mårem
PropertyNo : 4
Period : vikingtid
AcquisitionDate : 2003
FindCategory : gravfunn
Description : Amulettgjemme av kobberlegering. Rørformet beholder med tilnærmet rundt tverrsnitt. Beholderen er åpen i begge ender. I den ene enden er det en utstikkende plate med en tilfestet åttetallsformet opphengskrok. I den andre enden er den samme opphengsmekanismen avbrutt, og på midten har det vært en tilsvarende plate med en ring i som også er avbrutt. L. 5,1 cm, diam.0,7 cm. Vekt: 3,3 g.
CoordinatePrecision : Funnsted (lokalitet)
Photographer : Teigen, Mårten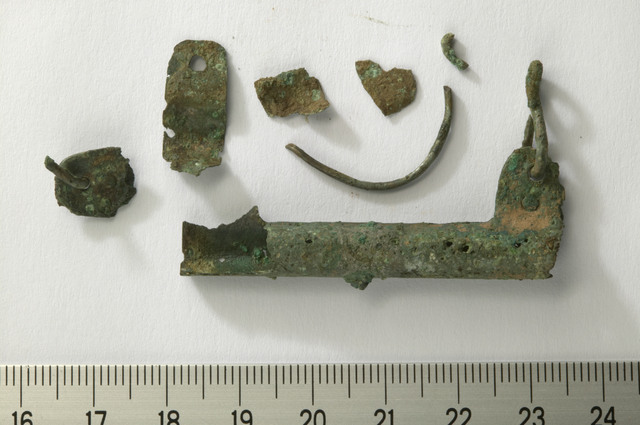 Kulturhistorisk museum/ Museum of Cultural History (postmottak@khm.uio.no)
---
Alle foto på denne siden er lisensieret under en Creative Commons-lisens.
Please note the Creative Commons license attached to the individual images displayed on this page.
It is possible to order high-resolution images from the museum. The cost must in such cases be covered by the purchaser. Please contact the museum to acquire about prices and delivery.