Universitetsmuseene
Gjenstander / Artefacts
---
Museum : Kulturhistorisk museum, Oslo
MuseumNo : C53630 (Katalogtekst)
MuseumSubNo : 23
Artefact : perle
Form : Skiveformet
Material : glass
County : Telemark
CountyNo : 08
Municipality : Tinn
MunicipalityNo : 0826
CadastralName : MAAREM NORDRE
CadastralNo : 71
PropertyName : Mårem
PropertyNo : 4
Period : vikingtid
AcquisitionDate : 2003
FindCategory : gravfunn
Description : 3 perler av glass. Gulbrune, skiveformete eller tilnærmet sylindriske perler. Overflatene er noe avskallet og har enkelte hakk. Det er bevart en fiberprøve av tråden. H. 0,4–0,5 cm, diam. 0,8 cm. Vekt: 0,5 g.
CoordinatePrecision : Funnsted (lokalitet)
Photographer : Teigen, Mårten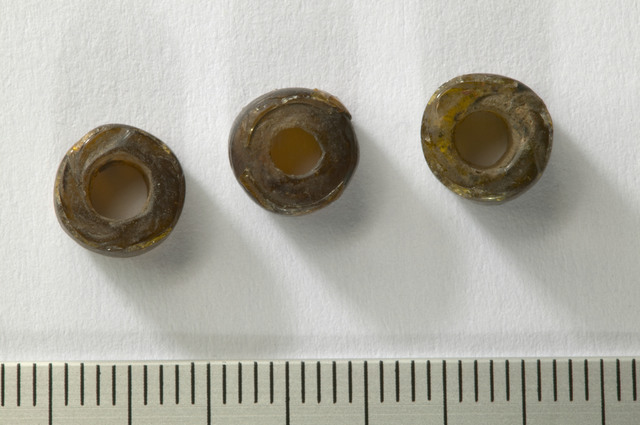 Kulturhistorisk museum/ Museum of Cultural History (postmottak@khm.uio.no)
---
Alle foto på denne siden er lisensieret under en Creative Commons-lisens.
Please note the Creative Commons license attached to the individual images displayed on this page.
It is possible to order high-resolution images from the museum. The cost must in such cases be covered by the purchaser. Please contact the museum to acquire about prices and delivery.