Universitetsmuseene
Gjenstander / Artefacts
---
Museum : Kulturhistorisk museum, Oslo
MuseumNo : C57667 (Katalogtekst)
MuseumSubNo : 3
Artefact : pilspiss
Material : jern
County : Vestfold
CountyNo : 07
Municipality : Tønsberg
MunicipalityNo : 0704
CadastralName : HESBY NORDRE
CadastralNo : 39
PropertyNo : 7/10
Period : vikingtid
AcquisitionDate : 2010
FindCategory : gravfunn
LocationId : 100268, 100270 (Riksantikvaren/ Kulturminnesøk)
Description : Ni pilspisserav jern, trolig fra et kogger. Sju er sammenrustet , mens to piler og ett jernfragment foreligger løst. Pilene har forskjellige størrelser, og det synes å være to typer representert. Seks av bladene har spissoval form som R.539 eller Farbregd 1972: pl. 4, fig. 38/44/45 og tanger med firkantet tverrsnitt. Stl.:14,5 cm, hvorav tangen: 3,5 cm. Stb.2,8 cm. Tre spisser synes å ha mer firkantede, avlange blad (stridsspisser), som R.542, men korrosjon vanskeliggjør bestemmelsen. Stl.:10,6 cm, hvorav tangen: 2,4 cm. Stb.1,2 cm. Det er bevart tre langs tangen på alle pilspissene.
CoordinatePrecision : Funnsted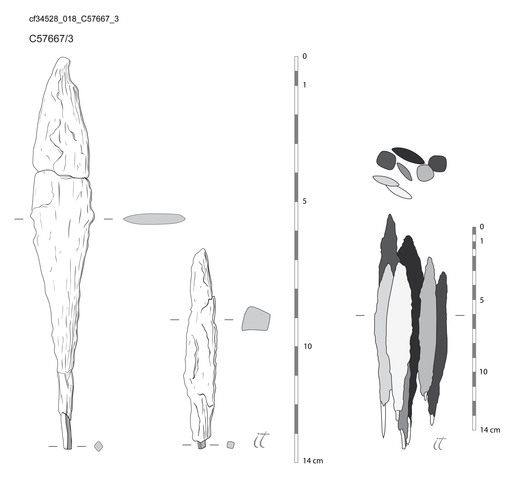 Kulturhistorisk museum/ Museum of Cultural History (postmottak@khm.uio.no)
---
Alle foto på denne siden er lisensieret under en Creative Commons-lisens.
Please note the Creative Commons license attached to the individual images displayed on this page.
It is possible to order high-resolution images from the museum. The cost must in such cases be covered by the purchaser. Please contact the museum to acquire about prices and delivery.