Universitetsmuseene
Gjenstander / Artefacts
---
Museum : Kulturhistorisk museum, Oslo
MuseumNo : C59639 (Katalogtekst)
Artefact : spenne
Form : konisk
Material : kobberlegering
County : Oppland
CountyNo : 05
Municipality : Ringebu
MunicipalityNo : 0520
CadastralName : RINGEBU PRESTEGAARD (RINGEBU PRÆSTEGAARD)
CadastralNo : 64
PropertyNo : 1
Period : merovingertid
AcquisitionDate : 2013
FindCategory : løsfunn
LocationId : 171765 (Riksantikvaren/ Kulturminnesøk)
Description : En konisk spenne av kobberlegering, nærmest som Gjessing 1934:Pl. XXXII d med dekor i form av to par inngraverte, konsentriske dobbeltlinjer, paret nærmest topprammen med tverrstriering. Knappen mangler, og det er noen små bruddskader langs et parti av ytterkanten. Spor av nåleholder og -feste er bevart på spennens bakside. Diam.: 2,8 cm, h.: 0,9 cm.
CoordinatePrecision : Funnsted (eksakt)
Photographer : Røstad, Ingunn Marit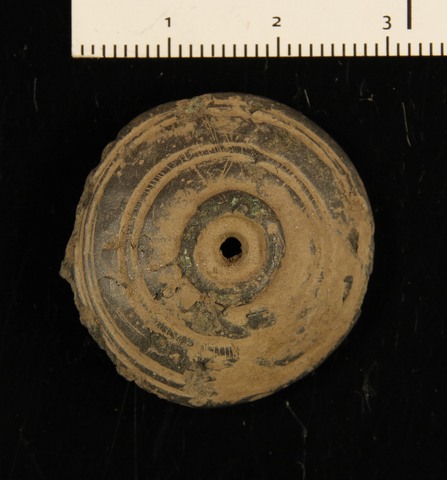 Kulturhistorisk museum/ Museum of Cultural History (postmottak@khm.uio.no)
---
Alle foto på denne siden er lisensieret under en Creative Commons-lisens.
Please note the Creative Commons license attached to the individual images displayed on this page.
It is possible to order high-resolution images from the museum. The cost must in such cases be covered by the purchaser. Please contact the museum to acquire about prices and delivery.