Universitetsmuseene
Gjenstander / Artefacts
---
Museum : Kulturhistorisk museum, Oslo
MuseumNo : C59718 (Katalogtekst)
Artefact : spenne
Form : remspenne
Material : kobberlegering
County : Akershus
CountyNo : 02
Municipality : Ullensaker
MunicipalityNo : 0235
CadastralName : HOVIN ØSTRE
CadastralNo : 138
PropertyNo : 1
Period : vikingtid
AcquisitionDate : 2013
FindCategory : løsfunn
LocationId : 173750 (Riksantikvaren/ Kulturminnesøk)
Description : Tilnærmet D-formet rem- eller beltespenne av kobberlegering, nærmest som Rogers 1993:fig 650, 5314 med et dyrehode midt på belteringen foran. Dyrehodet er framstilt en face med snuten pekende utover. Remspennen har en tilfestet rektangulær eller tilnærmet båndformet plate med profilert dekor. Spennen er godt bevart og nålen er inntakt, men platen er avbrutt ytterst. Diam. beltering: 2,1 cm, l. beltering og plate: 5,5 cm.
CoordinatePrecision : Funnsted (eksakt)
Photographer : Røstad, Ingunn Marit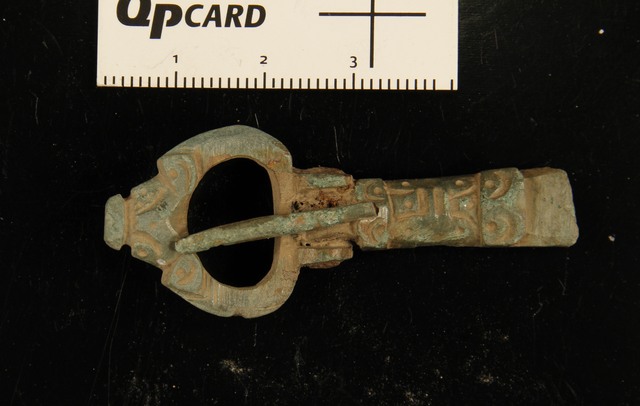 Kulturhistorisk museum/ Museum of Cultural History (postmottak@khm.uio.no)
---
Alle foto på denne siden er lisensieret under en Creative Commons-lisens.
Please note the Creative Commons license attached to the individual images displayed on this page.
It is possible to order high-resolution images from the museum. The cost must in such cases be covered by the purchaser. Please contact the museum to acquire about prices and delivery.