Universitetsmuseene
Gjenstander / Artefacts
---
Museum : Norges arktiske universitetsmuseum
MuseumNo : Ts4204 (Katalogtekst)
MuseumSubNo : l
Artefact : Pilspiss
Form : buete egger, ganske små mothaker og avrundet tangeende|med mothaker
Material : skifer
County : Nordland
CountyNo : 18
Municipality : Lurøy
MunicipalityNo : 1834
CadastralName : Kongsvik Øvre
CadastralNo : 45
Period : steinalder/yngre steinalder
FindCategory : boplassfunn
LocationId : 38246 (Riksantikvaren/ Kulturminnesøk)
Description : Ganske liten pilespiss med mothaker av mørk gråviolett skifer med buete egger, ganske små mothaker og avrundet tangeende. Bladets ene side er hvelvet, den andre nærmest skjevt rygget. Lengde 4,2 cm, bredde 1,2 cm.
CoordinatePrecision : gard
Photographer : June Åsheim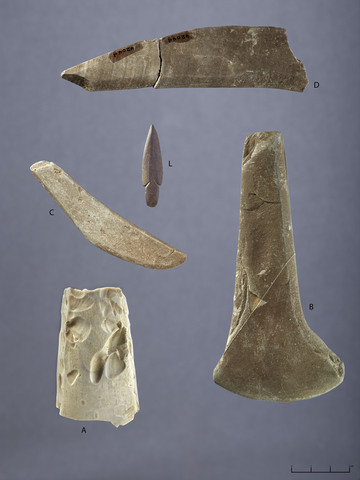 Norges arktiske universitetsmuseum/ The Arctic University Museum of Norway (fotoarkivet@tmu.uit.no)
---
Alle foto på denne siden er lisensieret under en Creative Commons-lisens.
Please note the Creative Commons license attached to the individual images displayed on this page.
It is possible to order high-resolution images from the museum. The cost must in such cases be covered by the purchaser. Please contact the museum to acquire about prices and delivery.