Universitetsmuseene
Gjenstander / Artefacts
---
Museum : NTNU Vitenskapsmuseet
MuseumNo : T12735 (Katalogtekst)
MuseumSubNo : a
Artefact : Øks
Form : sv. forns. 263|jan petersens type c
Material : jern
County : Nordland
CountyNo : 18
Municipality : Dønna
MunicipalityNo : 1827
CadastralName : Våg
CadastralNo : 2
Period : merovingertid/vikingtid
AcquisitionDate : 1923
FindCategory : gravfunn
Description : Økseblad av jern av Jan Petersens type C med ret overkant og uten skafthulfliker oventil, men forøvrig typologisk ældre end det i anf. arb. fig. 32 avbildede eksemplar, idet nedre kant kun i forholdsvis ringe grad er trukket ned mot eggen. Selv Sv. Forns. 263 viser med hensyn til bladets utformning en noget yngre type. 20,5 cm. l., 8,2 cm. bred over eggen.
CoordinatePrecision : Gard
Photographer : Ole Bjørn Pedersen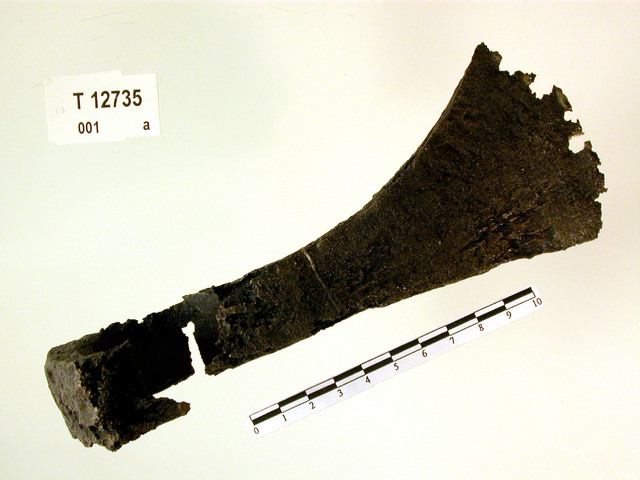 NTNU Vitenskapsmuseet/ NTNU Museum of Natural History and Archaeology (postmottak@museum.ntnu.no)
---
Alle foto på denne siden er lisensieret under en Creative Commons-lisens.
Please note the Creative Commons license attached to the individual images displayed on this page.
It is possible to order high-resolution images from the museum. The cost must in such cases be covered by the purchaser. Please contact the museum to acquire about prices and delivery.