Universitetsmuseene
Gjenstander / Artefacts
---
Museum : NTNU Vitenskapsmuseet
MuseumNo : T16364 (Katalogtekst)
MuseumSubNo : k
Artefact : Beltestein
Form : omgående innfatning av bronse|r. 155
Material : kvartsitt/bronse
County : Trøndelag
Municipality : Melhus
CadastralName : Foss
CadastralNo : 221
PropertyName : Grønlien/Grønlien øvre
PropertyNo : 7/4
Period : yngre romertid
FindCategory : gravfunn
LocationId : 47806 (Riksantikvaren/ Kulturminnesøk)
Description : . Beltestein av kvartsitt av typen R. 155 med omgående innfatning av bronse, som i den ene ende har bevart en tverrgående, nu 3,4 cm bred, men i begge ender avbrutt list, som har vært festet til beltet med 4 små bronsenagler, hvorav de to midtre er i behold. Steinens lengde 12,6 cm.
CoordinatePrecision : navnegard
Photographer : Ole Bjørn Pedersen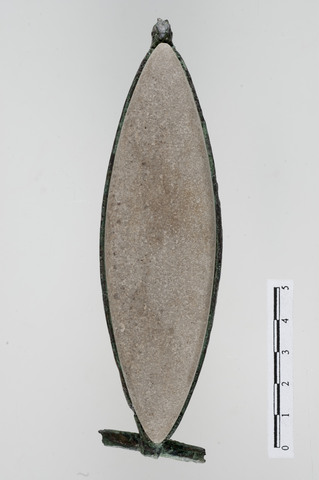 NTNU Vitenskapsmuseet/ NTNU Museum of Natural History and Archaeology (postmottak@museum.ntnu.no)
---
Alle foto på denne siden er lisensieret under en Creative Commons-lisens.
Please note the Creative Commons license attached to the individual images displayed on this page.
It is possible to order high-resolution images from the museum. The cost must in such cases be covered by the purchaser. Please contact the museum to acquire about prices and delivery.