Universitetsmuseene
Gjenstander / Artefacts
---
Museum : NTNU Vitenskapsmuseet
MuseumNo : T16364 (Katalogtekst)
MuseumSubNo : cc
Artefact : Leirkar
Form : r. 361
Material : leire
County : Trøndelag
Municipality : Melhus
CadastralName : Foss
CadastralNo : 221
PropertyName : Grønlien/Grønlien øvre
PropertyNo : 7/4
Period : yngre romertid
FindCategory : gravfunn
LocationId : 47806 (Riksantikvaren/ Kulturminnesøk)
Description : .Leirkar av typen R. 361, men med mindre utsvunget kontur mot munningen. Enkel ornering med grupper av skråstreker rundt skulderen. Bunnen konkav på undersiden. Høyde 11,4 cm, vidde over munningen 14 cm.
CoordinatePrecision : navnegard
Photographer : Ole Bjørn Pedersen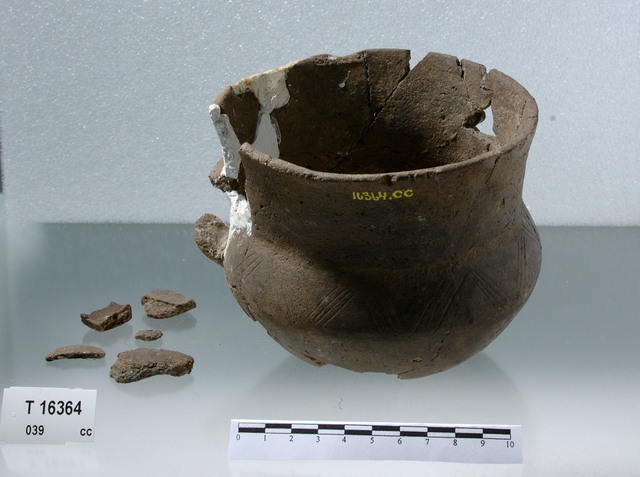 NTNU Vitenskapsmuseet/ NTNU Museum of Natural History and Archaeology (postmottak@museum.ntnu.no)
---
Alle foto på denne siden er lisensieret under en Creative Commons-lisens.
Please note the Creative Commons license attached to the individual images displayed on this page.
It is possible to order high-resolution images from the museum. The cost must in such cases be covered by the purchaser. Please contact the museum to acquire about prices and delivery.