Universitetsmuseene
Gjenstander / Artefacts
---
Museum : NTNU Vitenskapsmuseet
MuseumNo : T18717 (Katalogtekst)
MuseumSubNo : 191
Artefact : Pilspiss
Form : tangespiss
Variant : ubestemt tangespiss med kantretusj
Material : flint
County : Nordland
CountyNo : 18
Municipality : Hemnes
MunicipalityNo : 1832
CadastralName : Sør Ranens Almenning
CadastralNo : 99
PropertyName : Sør Ranens Alm.I
PropertyNo : 1
Period : senmesolitikum/yngre steinalder/bronsealder
AcquisitionDate : 1966
FindCategory : boplassfunn
Description : En mulig tangespiss laget av et medioavslag med to motstående konkave retusjkanter som ligner en tange. Retusjen er fin og steil. Den ene siden er slått fra dorsalsiden og den andre siden er slått fra ventralsiden. Stykket har noe uregelmessige eggkanter.
CoordinatePrecision : Funnsted
Photographer : Ole Bjørn Pedersen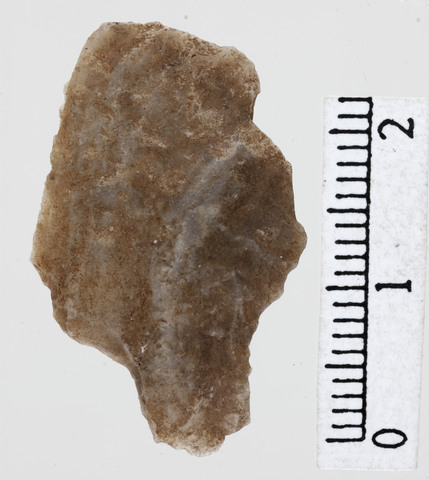 NTNU Vitenskapsmuseet/ NTNU Museum of Natural History and Archaeology (postmottak@museum.ntnu.no)
---
Alle foto på denne siden er lisensieret under en Creative Commons-lisens.
Please note the Creative Commons license attached to the individual images displayed on this page.
It is possible to order high-resolution images from the museum. The cost must in such cases be covered by the purchaser. Please contact the museum to acquire about prices and delivery.