Universitetsmuseene
Gjenstander / Artefacts
---
Museum : NTNU Vitenskapsmuseet
MuseumNo : T20202 (Katalogtekst)
MuseumSubNo : a
Artefact : Bryne
Form : hengebryne
Material : skifer
County : Nordland
CountyNo : 18
Municipality : Brønnøy
MunicipalityNo : 1813
CadastralName : Tilrem
CadastralNo : 108
PropertyName : Tilrem
PropertyNo : 1
Period : ubestemt
LocationId : 109195 (Riksantikvaren/ Kulturminnesøk)
Description : Hengebryne av svart skifer, avrundet i endene. Den ene siden er plan, den andre konveks i tverrsnitt. Mål 7,0 x 1,3 x 0,4 cm. Fig. 23a.
CoordinatePrecision : Bruk
Photographer : Åge Hojem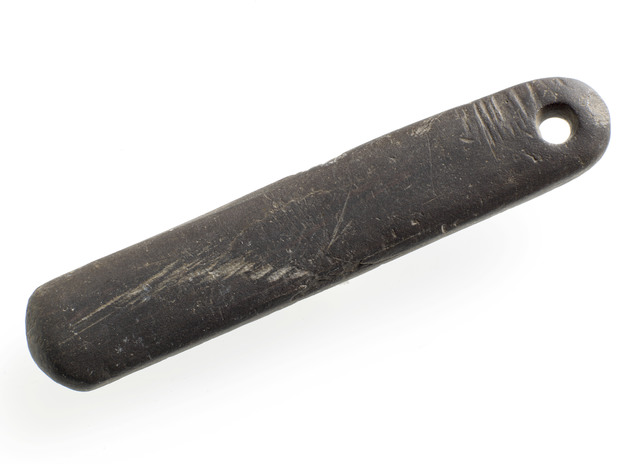 NTNU Vitenskapsmuseet/ NTNU Museum of Natural History and Archaeology (postmottak@museum.ntnu.no)
---
Alle foto på denne siden er lisensieret under en Creative Commons-lisens.
Please note the Creative Commons license attached to the individual images displayed on this page.
It is possible to order high-resolution images from the museum. The cost must in such cases be covered by the purchaser. Please contact the museum to acquire about prices and delivery.