Universitetsmuseene
Gjenstander / Artefacts
---
Museum : NTNU Vitenskapsmuseet
MuseumNo : T20950 (Katalogtekst)
MuseumSubNo : 13
Artefact : Vevlodd
Form : vevlodd
Material : kleber
County : Nordland
CountyNo : 18
Municipality : Alstahaug
MunicipalityNo : 1820
CadastralName : Myklebostad
CadastralNo : 81
PropertyName : Moreng
PropertyNo : 3
Period : middelalder/nyere tid
FindCategory : boplassfunn.gårdshaug
Description : Gjenstand til ukjent bruk av kleberstein, sannsynligvis fragment av vevlodd. Krummet fragment med rester av dreid, gjennomgående hull mot en endekant, hullets diameter ca. 1,4 cm. St. bev. l. 4,4 cm, vekt 10,5 gram.
CoordinatePrecision : Bruk
Photographer : Ole Bjørn Pedersen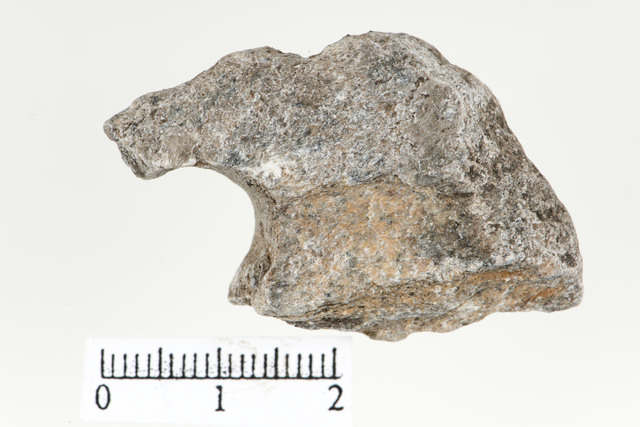 NTNU Vitenskapsmuseet/ NTNU Museum of Natural History and Archaeology (postmottak@museum.ntnu.no)
---
Alle foto på denne siden er lisensieret under en Creative Commons-lisens.
Please note the Creative Commons license attached to the individual images displayed on this page.
It is possible to order high-resolution images from the museum. The cost must in such cases be covered by the purchaser. Please contact the museum to acquire about prices and delivery.