Universitetsmuseene
Gjenstander / Artefacts
---
Museum : NTNU Vitenskapsmuseet
MuseumNo : T22767 (Katalogtekst)
MuseumSubNo : 5809
Artefact : Kniv
Form : annen skiferkniv
Material : skifer
County : Møre og Romsdal
CountyNo : 15
Municipality : Aukra
MunicipalityNo : 1547
CadastralName : EIKREM
CadastralNo : 11
PropertyName : Norli
PropertyNo : 10
Period : mellomneolitikum
AcquisitionDate : 2003
FindCategory : boplassfunn
LocationId : 98449 (Riksantikvaren/ Kulturminnesøk)
Description : Mulig fragment av skiferkniv med dekor. Lys grå farge. Slipt på begge sider. Liten forvitringsgrad. Strekornamentikk langs hele den ene sidekanten, består av korte streker som løper på tvers av sidekanten. Lengde 23 mm, største bredde 13 mm, tykkelse 4 mm.
CoordinatePrecision : Funnsted
Photographer : Kari Dahl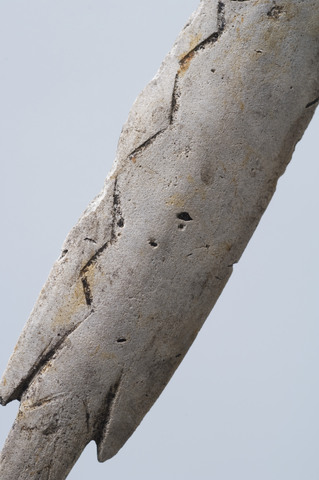 NTNU Vitenskapsmuseet/ NTNU Museum of Natural History and Archaeology (postmottak@museum.ntnu.no)
---
Alle foto på denne siden er lisensieret under en Creative Commons-lisens.
Please note the Creative Commons license attached to the individual images displayed on this page.
It is possible to order high-resolution images from the museum. The cost must in such cases be covered by the purchaser. Please contact the museum to acquire about prices and delivery.