Universitetsmuseene
Gjenstander / Artefacts
---
Museum : NTNU Vitenskapsmuseet
MuseumNo : T23435 (Katalogtekst)
MuseumSubNo : 610
Artefact : Mikrolitt
Form : lansettmikrolitt
Material : flint
County : Møre og Romsdal
CountyNo : 15
Municipality : Averøy
MunicipalityNo : 1554
CadastralName : Hestvik
CadastralNo : 48
PropertyNo : 1
Period : tidligmesolitikum/senmesolitikum
AcquisitionDate : 2006
FindCategory : boplassfunn
LocationId : 92322 (Riksantikvaren/ Kulturminnesøk)
Description : To delvis retusjerte sidekanter. På den ene siden, med mikrostikkelbruddet, er retusjen litt ujevn, og ser ut til å ha blitt laget fra både for og baksiden. Selve mikrostikkelbruddet er urørt. Langs den andre sidekanten er det svært fin retusj langs del av midpartiet, noe fin retusj nær distalenden, og deretter svært fin retusj i distalenden. Gjenstanden minner en del om T 23435:123.
CoordinatePrecision : Bruk
Photographer : Ole Bjørn Pedersen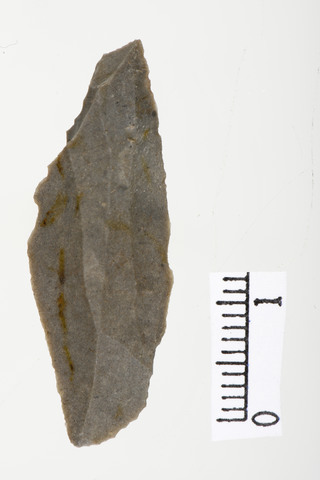 NTNU Vitenskapsmuseet/ NTNU Museum of Natural History and Archaeology (postmottak@museum.ntnu.no)
---
Alle foto på denne siden er lisensieret under en Creative Commons-lisens.
Please note the Creative Commons license attached to the individual images displayed on this page.
It is possible to order high-resolution images from the museum. The cost must in such cases be covered by the purchaser. Please contact the museum to acquire about prices and delivery.