Universitetsmuseene
Gjenstander / Artefacts
---
Museum : NTNU Vitenskapsmuseet
MuseumNo : T7643 (Katalogtekst)
Artefact : Stativ
Form : syputestell
Material : jern/messing
County : Ukjent fylke
CountyNo : 99
Municipality : Leksvik
Period : nyere tid
FindCategory : ubestemt funnkategori
Description : Redskab for sybordet, bestaaende af en liden skaal til optagelse af en naalepude, en klype med hævstang og fjæder til fastholden af sytøiet og skrueindretning til befæstelse i bordkanten, alt af messing, undtagen (den afbrudte) fjæder og skruen, som er af jern; lignende indretninger af træ og jern har været almindelige og bruges maaske tildels endnu. Skal være kommen fra Leksviken.
CoordinatePrecision : Kommune
Photographer : Ole Bjørn Pedersen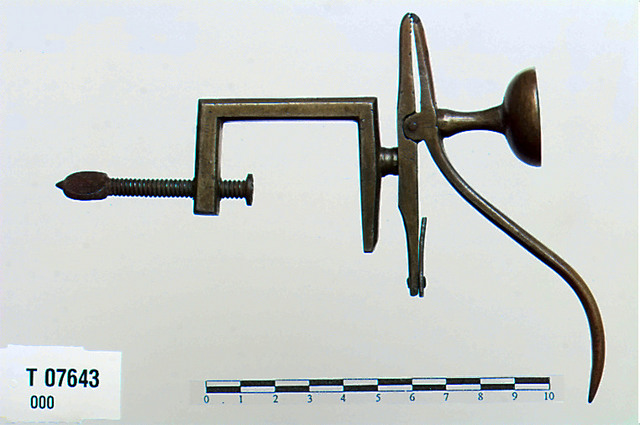 NTNU Vitenskapsmuseet/ NTNU Museum of Natural History and Archaeology (postmottak@museum.ntnu.no)
---
Alle foto på denne siden er lisensieret under en Creative Commons-lisens.
Please note the Creative Commons license attached to the individual images displayed on this page.
It is possible to order high-resolution images from the museum. The cost must in such cases be covered by the purchaser. Please contact the museum to acquire about prices and delivery.