Universitetsmuseene
Gjenstander / Artefacts
---
Museum : Norges arktiske universitetsmuseum
MuseumNo : Ts10475 (Katalogtekst)
MuseumSubNo : o
Artefact : Pilspiss
Form : svakt rombisk tverrsnitt
Material : jern
County : Troms
CountyNo : 19
Municipality : Bardu
MunicipalityNo : 1922
Period : steinalder
FindCategory : løsfunn
Description : Jernkniv total l = 13 cm, hvorav bladet er ca 8,5 cm svakt rombisk tverrsnitt, bredde neders ved bladet 2,15 cm. Gjenstanden er illustrert. Fig 1. Skisse av jernkniv (Ts. 104750 ) 1:1. Rekatalogisert (13.04.2015) som pilspiss av jern, datert 1200-1700-tallet.
CoordinatePrecision : kommune
Photographer : Roger Jørgensen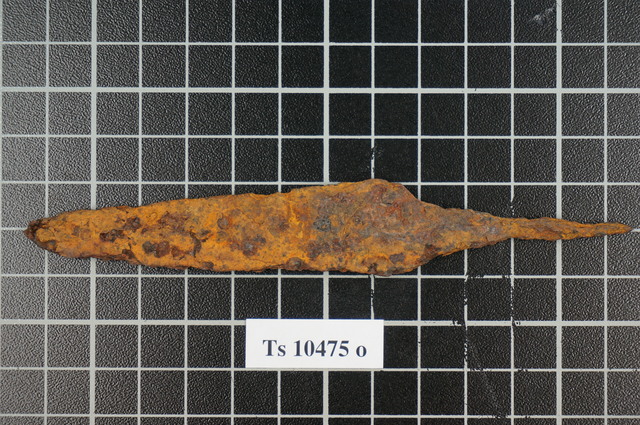 Norges arktiske universitetsmuseum/ The Arctic University Museum of Norway (fotoarkivet@tmu.uit.no)
---
Alle foto på denne siden er lisensieret under en Creative Commons-lisens.
Please note the Creative Commons license attached to the individual images displayed on this page.
It is possible to order high-resolution images from the museum. The cost must in such cases be covered by the purchaser. Please contact the museum to acquire about prices and delivery.