Universitetsmuseene
Gjenstander / Artefacts
---
Museum : Norges arktiske universitetsmuseum
MuseumNo : Ts12308 (Katalogtekst)
MuseumSubNo : 8
Artefact : Perle
Material : glass
County : Nordland
CountyNo : 18
Municipality : Hadsel
MunicipalityNo : 1866
CadastralName : Bitterstad
CadastralNo : 79
PropertyNo : 1
Period : vikingtid
AcquisitionDate : 2012
FindCategory : gravfunn/løsfunn
LocationId : 158588 (Riksantikvaren/ Kulturminnesøk)
Description : 1 stk perle av glass. Sort glass med pålagt dekor av gule og røde glasstaver - to gule bølgelinjer, tilsynelatende rette røde linjer mellom og utenfor de gule. Noen mikroskopiske hull i overflaten, noe av det pålagte glasset har falt av, men ellers i god stand. 1,2 cm i diameter, 0,9 cm tykk.
CoordinatePrecision : Funnsted
Photographer : Julia Holme Dammann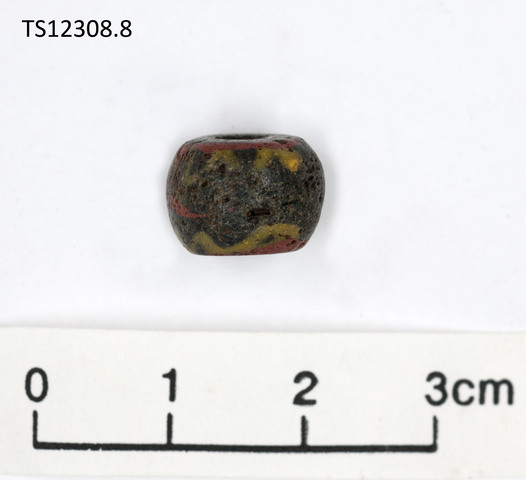 Norges arktiske universitetsmuseum/ The Arctic University Museum of Norway (fotoarkivet@tmu.uit.no)
---
Alle foto på denne siden er lisensieret under en Creative Commons-lisens.
Please note the Creative Commons license attached to the individual images displayed on this page.
It is possible to order high-resolution images from the museum. The cost must in such cases be covered by the purchaser. Please contact the museum to acquire about prices and delivery.