Universitetsmuseene
Gjenstander / Artefacts
---
Museum : Kulturhistorisk museum, Oslo
MuseumNo : C30253 (Katalogtekst)
Artefact : spyd
Variant : P. C 9
Material : jern
County : Oppland
CountyNo : 05
Municipality : Sør-Fron
MunicipalityNo : 0519
CadastralName : KJORSTAD NEDRE
CadastralNo : 49
Period : vikingtid
FindCategory : gravfunn
Description : Spydspiss av jern av typen Jan Petersen: Vikingesverd, fig. 9 - C-typen - men i det hele bredere og kraftigere. Overgangen mellom fal og blad er skarpt markert. Furene på falen er ganske grunne i motsetning til på typeeksemplaret. Stykket er usedvanlig velformet, og bortsett fra noen hakk i bladet, nesten ikke forrustet. Spor avglødeskall? Lengde 46,2 cm, bladets st. bredde 5,6 cm, bredde over vingene 5,9 cm.
CoordinatePrecision : Stedsnavn (Gard)
Photographer : Helgeland, Kirsten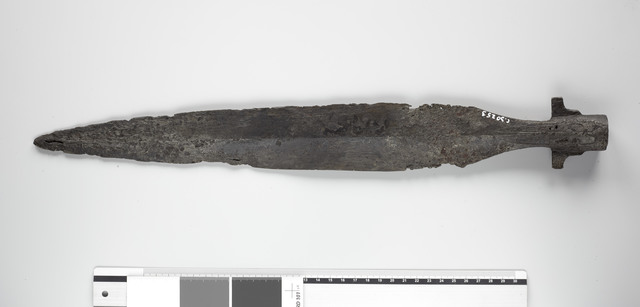 Kulturhistorisk museum/ Museum of Cultural History (postmottak@khm.uio.no)
---
Alle foto på denne siden er lisensieret under en Creative Commons-lisens.
Please note the Creative Commons license attached to the individual images displayed on this page.
It is possible to order high-resolution images from the museum. The cost must in such cases be covered by the purchaser. Please contact the museum to acquire about prices and delivery.