Universitetsmuseene
Gjenstander / Artefacts
---
Museum : Universitetsmuseet i Bergen
MuseumNo : B4590 (Katalogtekst)
MuseumSubNo : s
Artefact : vektlodd/pung/plader
Material : bronse/skinn
County : Sogn og Fjordane
CountyNo : 14
Municipality : Gloppen
MunicipalityNo : 1445
CadastralName : Evebø
CadastralNo : 77
PropertyName : BNR: 7/9/11
PropertyNo : 7
Period : folkevandringstid
AcquisitionDate : 1889
FindCategory : gravfunn
LocationId : 64115 (Riksantikvaren/ Kulturminnesøk)
Description : En skindpung med syv vegtlodder af bronce. De tre største lodder er cylinderformede, som R 181 c, men uden merker. De to mindre er af lignende form, men med noget buede sider. De to mindste udgjøres af tynde, runde, myntlignende plader med midtpunkt og spor af ornamenter. Loddernes resp. vægt er nu: 24,3-14,9-3,4-1,0-0,9-0,4-(0,4?), alt gram. Pungen er sammensyet og løber ud i et langt, smalt endestykke, som fandtes rullet om selve pungen.
CoordinatePrecision : Funnsted (lokalitet)
Photographer : Leiv Espevoll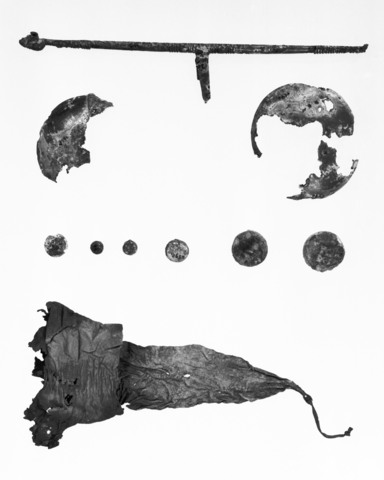 Universitetsmuseet i Bergen/ University Museum of Bergen (post@um.uib.no)
---
Alle foto på denne siden er lisensieret under en Creative Commons-lisens.
Please note the Creative Commons license attached to the individual images displayed on this page.
It is possible to order high-resolution images from the museum. The cost must in such cases be covered by the purchaser. Please contact the museum to acquire about prices and delivery.