Universitetsmuseene
Gjenstander / Artefacts
---
Museum : NTNU Vitenskapsmuseet
MuseumNo : T13283 (Katalogtekst)
MuseumSubNo : a
Artefact : Sverd
Form : båndomvikling av skjeden (cfr. "oldtiden" vii, s. 166 ff.)|typen r. 499|enegget
Material : jern
County : Trøndelag
Municipality : Overhalla
CadastralName : Melhus
CadastralNo : 68
PropertyName : Fossli
PropertyNo : 4
Period : merovingertid
FindCategory : gravfunn
Description : Enegget sverd av jern uten hjalter, av typen R. 499, kun bevaret i bruddstkr. i en lengde av ca. 69 cm. Såvel til klingen som til grepet hefter betydelige rester av tre, likesom der også sees spor efter båndomvikling av skjeden (cfr. "Oldtiden" VII, s. 166 ff.).
CoordinatePrecision : Gard
Photographer : Ole Bjørn Pedersen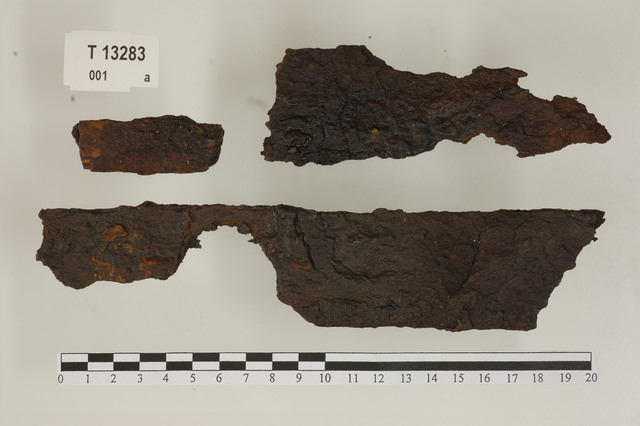 NTNU Vitenskapsmuseet/ NTNU Museum of Natural History and Archaeology (post@vm.ntnu.no)
---
Alle foto på denne siden er lisensieret under en Creative Commons-lisens.
Please note the Creative Commons license attached to the individual images displayed on this page.
It is possible to order high-resolution images from the museum. The cost must in such cases be covered by the purchaser. Please contact the museum to acquire about prices and delivery.