Universitetsmuseene
Gjenstander / Artefacts
---
Museum : NTNU Vitenskapsmuseet
MuseumNo : T14502 (Katalogtekst)
Artefact : Sverd
Form : enegget|jan petersens type h
Material : jern
County : Trøndelag (Sør-Trøndelag)
Municipality : Skaun
CadastralName : Viggen Ommundsgård (VIGGEN OMMUNDSGÅRD)
CadastralNo : 134 (47)
PropertyName : Sanden
PropertyNo : 3
Period : vikingtid
FindCategory : gravfunn
Description : Ufullstendig, enegget sverd av jern åpenbart av Jan Petersens type H, men med korte, massive hjalter og med overhjalt og knapp smidd i ett stykke. Klingen er bred og kraftig, med fastrustede rester av treskjeden. F. på Viggja (g. nr. 47), Børsa s. og p., br. no. 3 Sanden. (matr.nr. 1657001340003) Sverdet kom til syne under et ved flomskade forårsaket litet jordras og lå i en dybde av ca. 1,5 m i sandblandet ler. Det er mulig at fundstedet ikke er primært, da terrenget her oftere har vært utsatt for jordfall. Sverdet tør dog helst stamme fra en grav. På samme bruk er tidligere gjort fund både fra broncealder og yngre jernalder. Gave fra gbr. Eilert Liaklev.
CoordinatePrecision : Bruk
Photographer : Ole Bjørn Pedersen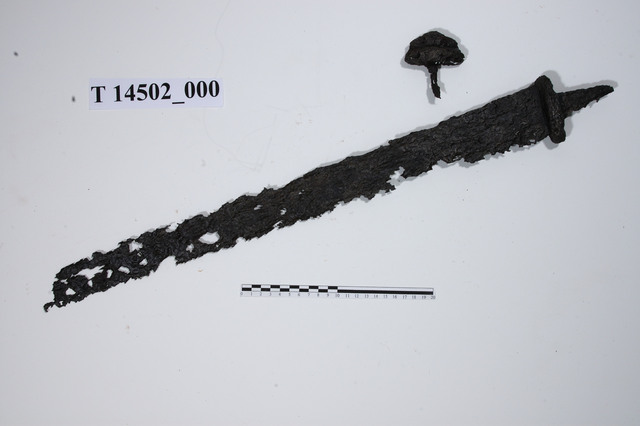 NTNU Vitenskapsmuseet/ NTNU Museum of Natural History and Archaeology (post@vm.ntnu.no)
---
Alle foto på denne siden er lisensieret under en Creative Commons-lisens.
Please note the Creative Commons license attached to the individual images displayed on this page.
It is possible to order high-resolution images from the museum. The cost must in such cases be covered by the purchaser. Please contact the museum to acquire about prices and delivery.