Universitetsmuseene
Gjenstander / Artefacts
---
Museum : NTNU Vitenskapsmuseet
MuseumNo : T15633 (Katalogtekst)
Artefact : Pilspiss
Form : r. 549|r. 543
Material : jern
County : Trøndelag
Municipality : Oppdal
Period : vikingtid
FindCategory : ubestemt funnkategori
Description : Pilespiss av jern av typen R. 543 med to skarpeggede, spisse fremspring nedenfor bladet og i et plan som ligger rettvinklet på dette, av form ganske som på R. 549. Lengde 15,6 cm. F. av gbr. Hans L. Sneve under rypejakt på østsiden av Leirtjønnkollen på "Søfjellet" øst for Drivstua, Opdal s. og pgd., Sørtr. (matr.nr. 1634000000000) Spissen lå oppe på auren.
CoordinatePrecision : Kommune
Photographer : Ole Bjørn Pedersen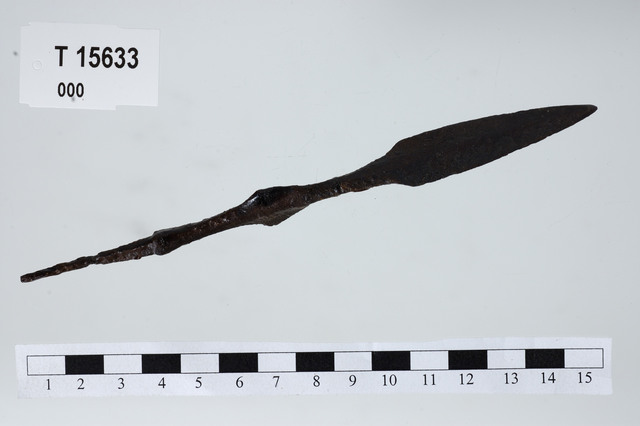 NTNU Vitenskapsmuseet/ NTNU Museum of Natural History and Archaeology (postmottak@museum.ntnu.no)
---
Alle foto på denne siden er lisensieret under en Creative Commons-lisens.
Please note the Creative Commons license attached to the individual images displayed on this page.
It is possible to order high-resolution images from the museum. The cost must in such cases be covered by the purchaser. Please contact the museum to acquire about prices and delivery.