Universitetsmuseene
Gjenstander / Artefacts
---
Museum : NTNU Vitenskapsmuseet
MuseumNo : T2897 (Katalogtekst)
Artefact : Sverd
Form : mundblik|enegget
Material : jern/tre/lerret
County : Trøndelag (Nord-Trøndelag)
Municipality : Steinkjer
CadastralName : Brandsegg søndre (BRANDSEGG SØNDRE)
CadastralNo : 145 (9)
Period : merovingertid
FindCategory : gravfunn
LocationId : 103241 (Riksantikvaren/ Kulturminnesøk)
Description : Enegget sverd, ljaablad og økseblad af jern af y. j.'s former. Sverdet har en 72 cm. lang klinge, 14 cm. lang tange uden hjalter, men med levninger af træbelæg; øverst paa klingen sees levninger af en træslire, overtrukket med læred og derover et mundblik af jern, ligeledes bedækket med læred.
CoordinatePrecision : Gard
Photographer : Ole Bjørn Pedersen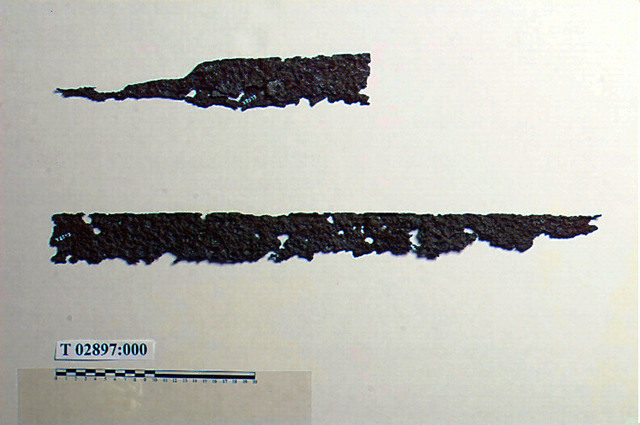 NTNU Vitenskapsmuseet/ NTNU Museum of Natural History and Archaeology (post@vm.ntnu.no)
---
Alle foto på denne siden er lisensieret under en Creative Commons-lisens.
Please note the Creative Commons license attached to the individual images displayed on this page.
It is possible to order high-resolution images from the museum. The cost must in such cases be covered by the purchaser. Please contact the museum to acquire about prices and delivery.