Universitetsmuseene
Etnografi / Ethnografica
---
Museum : Norges arktiske universitetsmuseum, UiT
Collection : NYK
MuseumNo : N578
Artefact : Kniv
Description : Kniv : med slire, løvtre : , skåret, jern : smidd, skaft tilnærmet ovalt tverrsnitt. Lengde 28,5 cm, lengde blad 18,5 cm, bredde 3,3 cm. : Slire : , bjerk : , skåret, lær : , sydd, åpen langs den ene siden, skåret symbol. Høyde 24,8 cm, lengde 6,5 cm, bredde 4,7 cm.
Photographer : (c) Tromsø Museum --Universitetsmuseet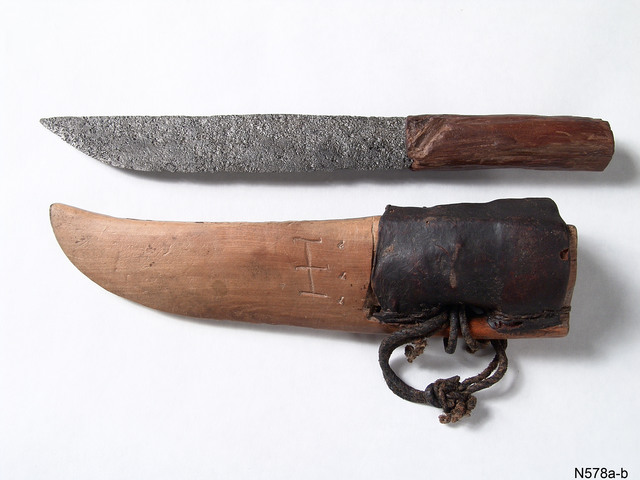 Norges arktiske universitetsmuseum / The Arctic University Museum of Norway (fotoarkivet@tmu.uit.no)
---
Alle foto på denne siden er lisensieret under en Creative Commons-lisens.
Please note the Creative Commons license attached to the individual images displayed on this page.
It is possible to order high-resolution images from the museum. The cost must in such cases be covered by the purchaser. Please contact the museum to acquire about prices and delivery.