Universitetsmuseene
Etnografi / Ethnografica
---
Museum : Norges arktiske universitetsmuseum, UiT
Collection : SAM
MuseumNo : L1194
Artefact : Pikelue
Description : Pikelue, : kysefasong i rød klede : . Sømmen rundt pullen er pyntet med smalt silkebånd : , grønn bunnfarge med røde roser og blå blad. Nakkestykkene er skjøtt sammen med en liten lapp i samme stoff. Sømmen mellom nakke - og forstykket er pyntet med smalt silkebånd, hvitt med blå prikker. Rundt forstykket er en smal hvit blonde : kant. Luen knytes sammen med 33 cm. l. : , 2,5 cm. b. : hvitt silkebånd. Flyttsame.
Photographer : (c) Tromsø Museum – Universitetsmuseet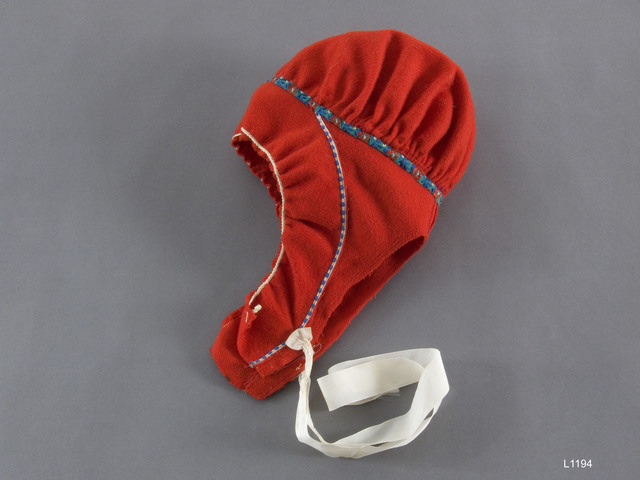 Norges arktiske universitetsmuseum / The Arctic University Museum of Norway (fotoarkivet@tmu.uit.no)
---
Alle foto på denne siden er lisensieret under en Creative Commons-lisens.
Please note the Creative Commons license attached to the individual images displayed on this page.
It is possible to order high-resolution images from the museum. The cost must in such cases be covered by the purchaser. Please contact the museum to acquire about prices and delivery.